Tupat's Chicken and Shrimp Plate with Mac Salad and Jalapeno Poppers
The wings need to be marinated in a Tupperware or Ziplock baggie for about 2 hours using with the Aloha BBQ Sauce or the Luau BBQ Poke Sauce. The Chicken wings need to cook for 20-25 minutes while flipping them through out the grilling process. Also brush them down with the Aloha BBQ sauce during the filling time.
As for the Shrimp skewers I marinated them with the Luau BBQ Poke for about an hour and then it was grill time. Shrimp can grill for 5-7 minutes turning them through the halfway process.
The Mac salad was pre-made and bought from our local Publix, it's very close to the Mac salad I used to eat in Hawaii so I like to buy this one. But you can make your own or buy from your local market also.
12 medium jalapeños (no longer than 3 inches each, about 2/3 pound total)
8 ounces cream cheese, softened and cheddar cheese
Scant 1/4 cup finely chopped cilantro
3 scallions, whites and greens parts, trimmed and very thinly sliced (about 1/4 cup)
1 garlic clove, finely chopped
1 lime, zested (about 1/2 teaspoon), optional
Kosher salt and black pepper
12 thin slices uncooked bacon (thick-cut bacon won't cook as evenly), halved crosswise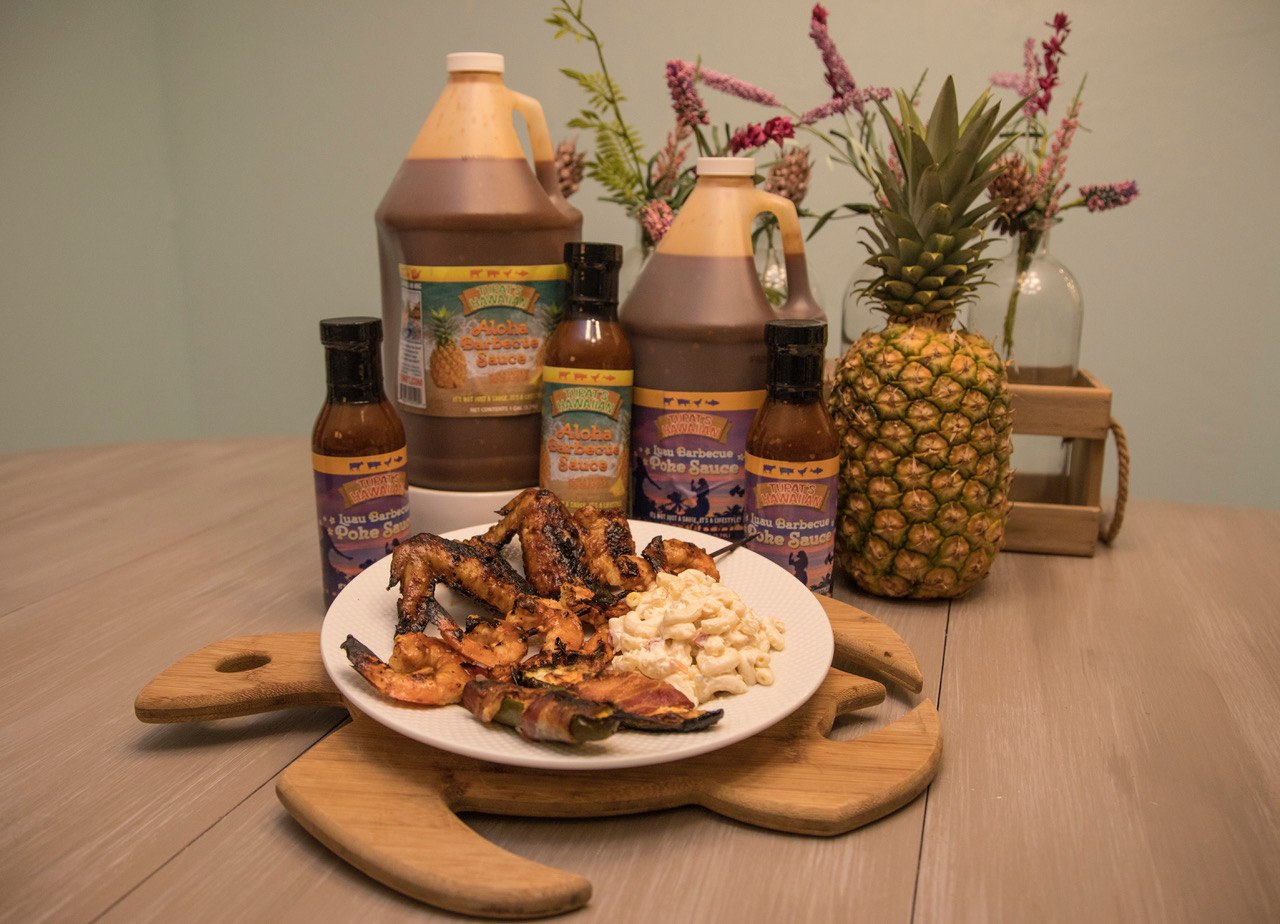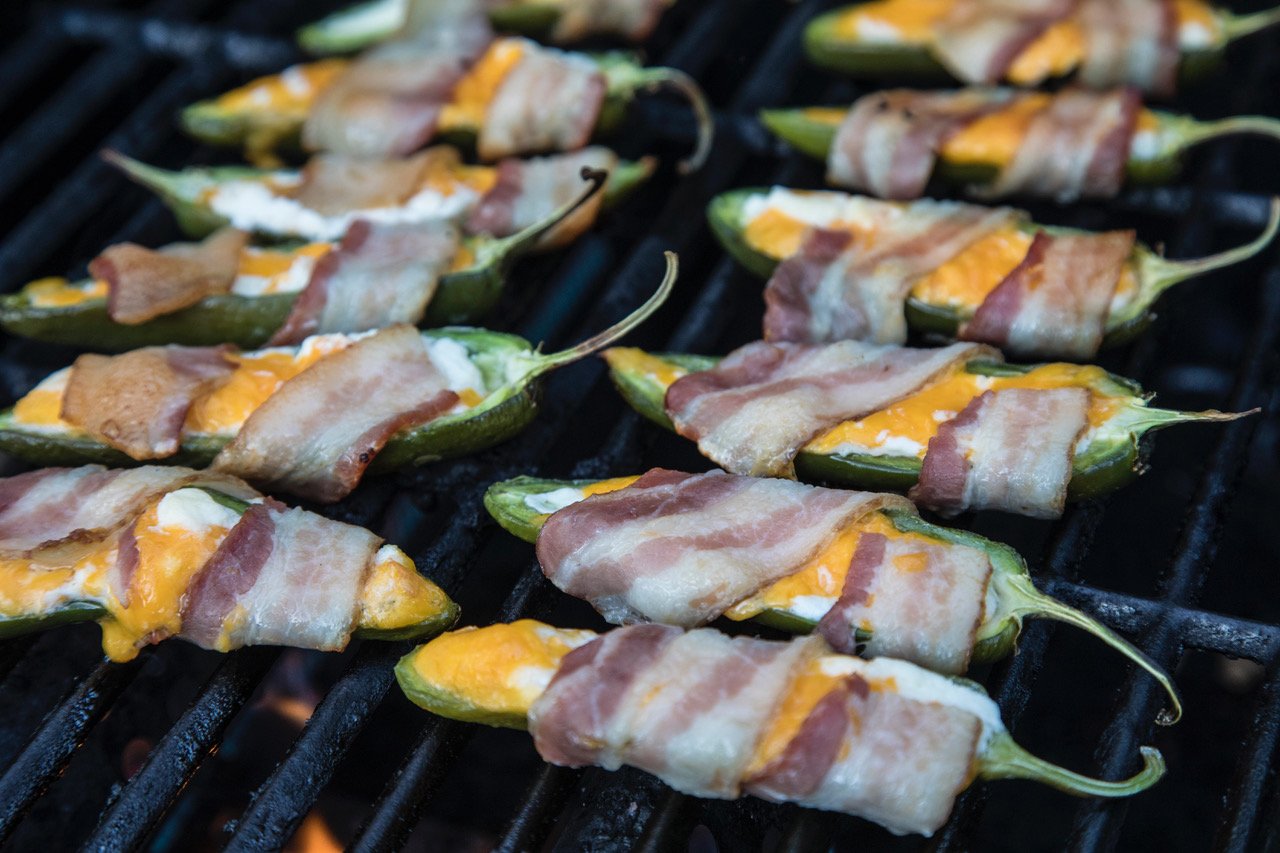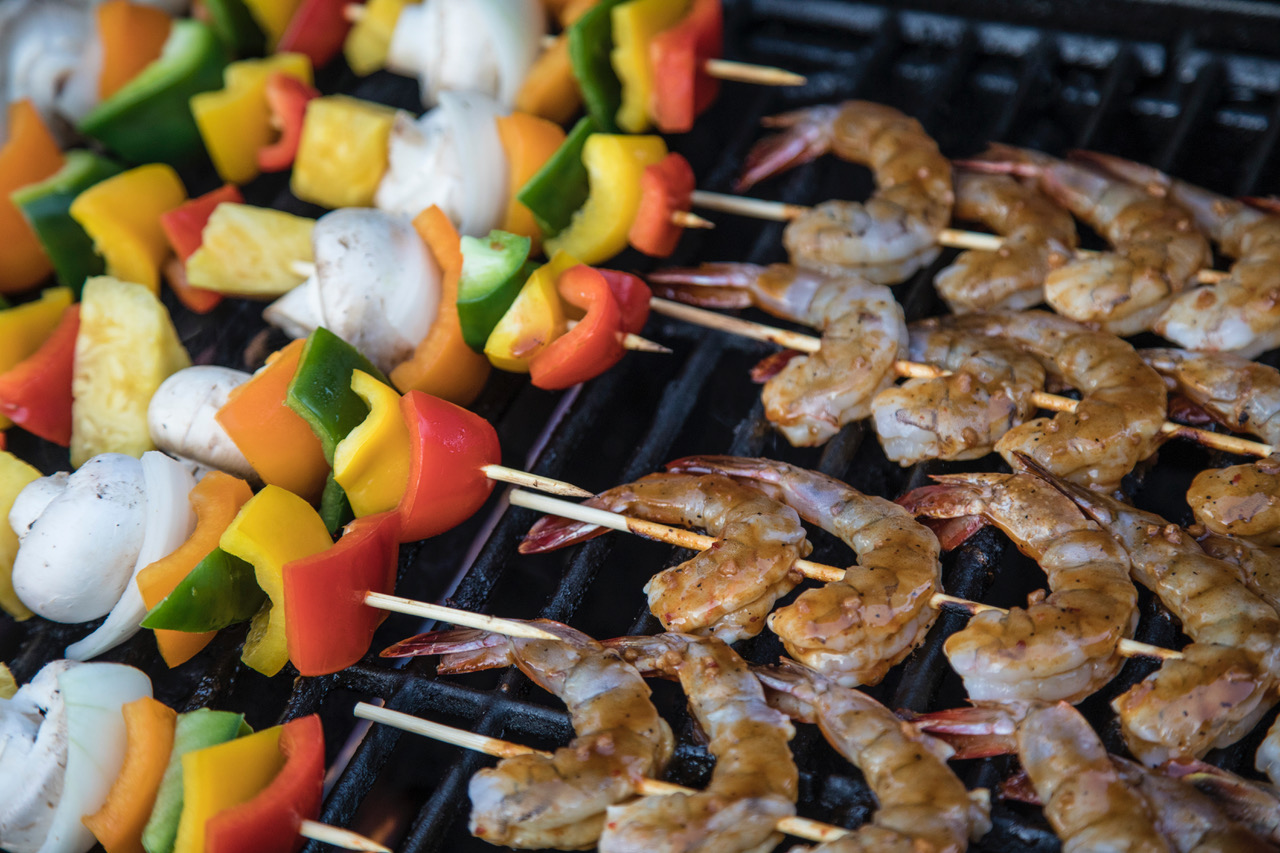 Jalapeno Poppers - Preparation
Heat the oven to 400 degrees. Line a large baking sheet with aluminum foil, then top with a wire rack.
Halve jalapeños lengthwise. (Do your best to halve them through their stems for added visual appeal.) Using the tip of a small spoon, scoop out and discard the seeds. Set the halved jalapeños aside.
In a medium bowl, stir together the cream cheese, Cheddar cheese shredded, scallions, garlic and lime zest, if using; season generously with salt and pepper.
Season the inside of each halved jalapeño with salt and pepper, then fill each with about 2 teaspoons of the cream cheese mixture. (Fill until there's a slight dome on top.) Wrap each stuffed jalapeño with 1 piece of bacon, setting one tip of bacon on top of the cream cheese filling, then wrapping the bacon under and over the popper at an angle, so the bacon covers the filling on top in two layers. (The bacon will shrink as it cooks, so you want to make sure the top of the popper is well covered.) Arrange poppers evenly on the wire rack, nestling each popper between two parallel wires to keep it upright so the cream cheese doesn't spill during baking.
Transfer to the oven, and bake until bacon is cooked through, about 25 minutes. Broil on the rack closest to the broiler until crisp, about 2 minutes. Let cool for 5 minutes, then serve warm. Finally place on grill for 2-3 minutes for the roasted touch!